[ HOME > PDA ]
Palm PDA is a great device to carry information. We are already using digital cameras and any shooting data are available each shots as meta. Several years I introduce software at this page. But so many programs or pages are gone. However, some are still there and maybe still works good at some case. So, I was going to delete this page but stop it. Too old information but these are the footprint.
---
The information below is a useful software *example* list for Palm computers. You can use them on Palm OS.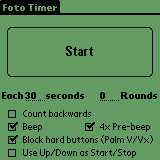 Foto Timer 0.8.2 http://www.palmgear.com
The Foto Timer beeps every x seconds when you need the beep to close your bulb exposure.

Very good to use with long time exposures in dark place where you can not see the watch. Because Palm PDA has backlight to show up the screen.

One more good thing is, this software is "FREE"!!! :-)


---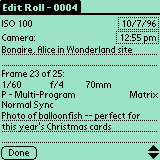 N90 Buddy http://members.aol.com/khancock/pilot.html
If you have Nikon N90/F90, your Palm computer on N90 Buddy connects using a Palm serial cable and the Nikon MC-31 cable. N90 Buddy allows you to turn on the camera's memo holder, download frame exposure information, set a number of custom options, and control your camera.
---
Daisuke Tomiyasu webmaster@pictinas.com