From the Editor
---
Sept 14, 2006 - Finally renewal the page design started, even Just only home page.
Maybe done but possibly buggy ... sry!
I know it supposed to be done though....
---
What is "npbear".... My handle name for BBS is "Nankyoku-guma"(South Pole Bear). But, here, I am News Paper Bear :-). This is reason why address is npbear. Maybe it is a bear with white far and newsprint on it as dots.
---
---
May 2, 2000 -Renewal the design
Previous update date was 2nd March . New pages are....
Add Earthquake Preparedness (Japanese) to the pages of Kobe.
Add new pages to the photo exhibition.
In 1992, I visited the Davis Monsan Air Force Base with Mr.Steve Kopito to gather material. I could not have done this job without him. I also appreciate Mr.Marv Spector because he loaned us his Toyota Land-Cruiser 70 for this trip. The height of his car's roof gave me a perfect angle for taking pictures.
---
Possibly you feel that the picture quality is not good on these pages. But, please understand this is only the way to protect my Copyright. Also, such big files kills your time for downloading and I know nobody wants to waste money on the telephone company.
---
Question and Answer
One surfer emailed to ask "what is that picture that of a red square on the front page?".
Answer : It is top of a dog's nose top stuck out from hole in the box on the truck. This is photo is a dog transportation truck. Mushers use trucks similar to this. Dogs are in the box for transportation to the race site. They like the hole to breath and feel the air outside. This truck is Mr.Keizo Funatsu's. He uses handmade boxes with a Ford F-250 4x4 pickup. If you see a truck like this, the owner must be a dog musher. (by News Paper Bear)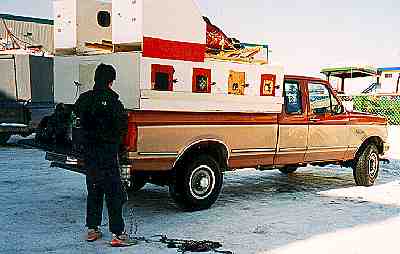 ---
-Editor's Voice-
Wyoming is too beautiful and mother nature was tender to our mind with healing. If you're interested about snow mobiling or Dogsledding, Wyoming is one of the best placeso. I hope my information will work as reference for your travel plans. This event was created as a media mix with the leading Japanese outdoor magazine BE-PAL. I sent digital photos through temporary Web site via Internet. This was my second trial for of this method, but the first for the magazine. (My first one was for the Newspaper). Digital cameras and the Internet gives us new possibilities for today.
---
Daisuke Tomiyasu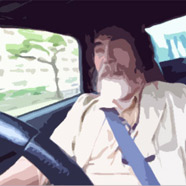 Daisuke Tomiyasu
Photographer, Photojournalist / Executive (President@NM,USA) for DIGIHOUND L.L.C. since March 2002.
Born in 1958 at Fukuoka Japan. Live in Kobe, Japan since 1993. I met with Keizo Funatsu by BBS. Sled dog is very interesting for me. Because it's quiet as sailing boat in snow and has drama between man and dog.
I have a wife, one daughter (30 years old) and one son (28 years old).
In former times, I was work as commercial photographer. Also, I experienced as Editor for local magazine at Fukuoka.as start as professional. Also had several of art exhibition at local galleries in Fukuoka. Selected photos for Modern Art Org exhibition twice.
Worked for several of magazines include some photograph for Asahi-Weekly magazine since 1986 to 1996 as freelance. Some of my report of Iditarod or IRMSSSDR has been published to Asahi-Shinbun newspaper, too. Especially, 1993 Iditarod start was the first large named newspaper's exposure that sent a picture via phone-line network by instant photo, scanner and pc with modem at Japan. 1996 IRMSSDR was the first large named newspaper's exposure that took pictures by digital camera then sent via Internet as freelance person in Japan.
Since 1990 to 1993, CCV (Cross Country Vehicle) magazine's editor, photographer and writer. Experienced computer things more than 20 years. Especially with PC/AT and Windows, I have enough experience to built and use. I was writing the story for Pasokon Hihyou (Personal Computer Review) magazine. After end of 2004, However, I'm mainly using Mac OS X today. No more win.
Written book;
Yonkusyonarie (4WD car dictionary) published by Dainihon Kaiga Co.,Ltd.
The Nissan Patrol & Safari published by Dainihon Kaiga Co.,Ltd.
I "was" own Ford F-150 pickup with 304 V8 so long. But it was so big to use on Japanese road. Now, I have Peugeot 1007 (mainly my daughter uses) and MGF. Ham station call sign : JK3LFO
Would you please give me your impressions by FORM or, please

E-mail to dt@pictinas.com Daisuke Tomiaysu : Kobe, Japan
---
©Daisuke Tomiyasu
---