- MOON by

Orion Optics 152mm f5

-
---
The half moon.
Usually use 5Dmark2 however, looks little smaller in frame for half moon at this moment. It was just fit with full moon but vertical shot are possible for half moon picture isn't it?. It meant APS-C which gives 1.6 times longer focus length makes better. As result, it is correct. Actual size difference in frame are shown right top.
I made zoomify versoin to magnify the part of the moon by the larger size. (below)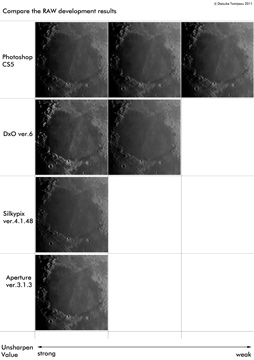 By the way, it was so long to compare the raw developers. Any software has been updated then I tested to compare again at this moment. As result, still Silkypix is the best. I felt question "what the raw developing engine are" by difference on result.
A tiny crater are place on right top of crater Bessel. Photoshop's result shows it just a white dot in many noises. DxO shows mountains so sharp. But flat area are fill by noises. However, search the best balance point by unsharp and denoise, gritty noise are not disappears.
Worst one is a Aperture. No noise reduction but no sharpen. As final result, like you can see on the cart, Silkypix is the most good software to find best balance to get the best result. The picture on top of this story are the result of re-developed after made this chart. I'm glad to made it possible to show the zoomify version.
Even like portrait pictures, wrinkle which shows life but not welcome the rough looks skin surface. Then I think this compare is not so special for tiny category of the photograph.
[ if you worry about jpeg compression noise, then let you see TIFF version 4.2MB ]
---
---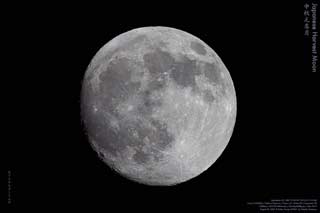 07/09/25
A day before Harvest Moon (full moon), Japanese culture named it as "Chu-shu-no-mei-getsu" (Great moon of the middle Autumn). Why one day before because it is August 15th by old almanac before Western culture imported.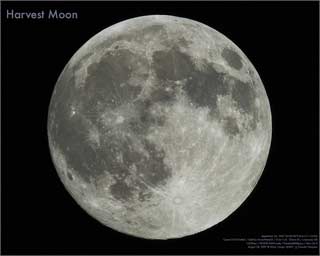 The picture right is absolute Western Harvest Moon at September 26th. I imagine beauty is the same for the Western or Eastern but it was wrong. Spaceweather.com tells "In the days before electric lights, farmers relied on moonlight to help them gather ripening autumn crops.".
This Harvest Moon (right) is EOS1DsMk2's large format. So I made Zoom view by SWF.
---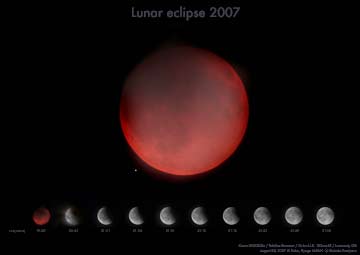 07/08/28
The Lunar Eclipse
It was bad weather again. However, this is a kind of "don't miss" event. So I waited, waited and got them. 152mm is easy to set up then helpful to setting and remove quicky by weather change.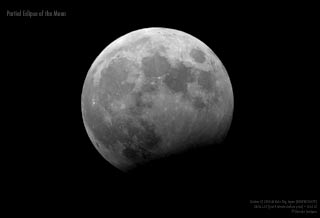 05/10/17
The Partial ECLIPSE OF THE HUNTER'S MOON by Canon EOS 1DsMk2.
The chance to get Eclipse at so bad weather because typhoon coming to Japan.
However, between clouds, fortunately I could get these shots.
It was so strong wind browing then I could not bring my 300mm Newton out. So, took from the veranda because house block the wind. 152mm was the limit size to use at this situatioon. If it was not eclipse, I was not take this moon because too bad condition. Losmandy G8 gave me the stable guiding to keep shooting.
The camera was settled with Paracorr and Power Mate 2X. Just get full size of the frame of EOS 1DsMk2.

---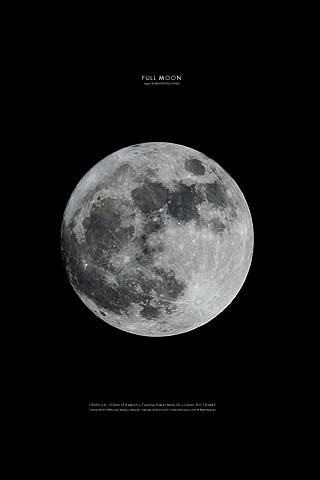 05/08/18
The moon shot by Canon EOS 1DsMk2 that 16Mpix CMOS.
This camera did not has live veiw mode then focusing work returned to the 20D's style. However, focusing screen is little bit better than 20D for the manual focusing at fine level. Framing is little bit small moon for the full size CMOS even used 2X Power Mate. (frame out when use the 20D or 20Da)
Real problem with this camera is the weight. Heavier body makes incorrect corrimation. So have to adjust the focuser to the up side or lower side to make fewer weight effect.
Seeing was not good enough but hopefully enough to get some information of the case if use the 1DsMk2. I putted on the full size version for this one. If you'd like to see it, please click the picture left.

---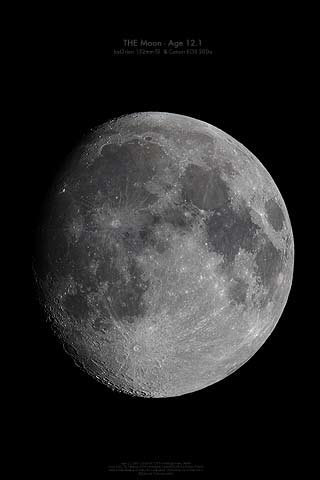 05/04/21
The moon shot by Canon EOS 20Da. Why this picture because 20Da's live view mode gave the fine focus.
The live veiw mode is the CMOS pass through view by camera's own monitor. 20Da's live view mode has 2 modes. One is 5times magnified and another one is 10times magnified. To get view with correct birghtness, have to adjust the ISO (or use iris to reduce the exposure).
When use the live view mode, we can get more fine focus and few unsharp effect. It makes moon edge mroe natural at picture like this.

---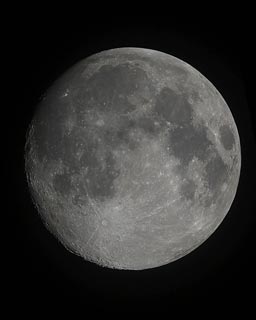 05/02/22
It was so long days to waiting good weather for Moon. Finally, high-pressure stay on our area.
Moon is a easy target to see for any telescopes. However, also moon is difficult target to take good picture. Larger aperture diameter make possible to take fine detail which impossilbe by small aperture diameter. My hypothesis about diameter been testing by the Orion 152mm that "better quality like P-V 1/8 conquer the aperture hadicap. And result are? Let you see this page and Planet page.
Actually, use the telescope that large aperture is best way to get good result, of course. But like I explain on the top page, also largeraperture telescopes are impossible to carry around for travelers. So, let you see this as 150mm aperture diameter telescope. It is good isn't it?
(Canon EOS 20D / Televue 2X Powermate / Silkypix RAW develop)

---
---
Copyright
©
Daisuke Tomiyasu 2001-2011