---
Saturn by TV85 @ Chatsworth, CA. USA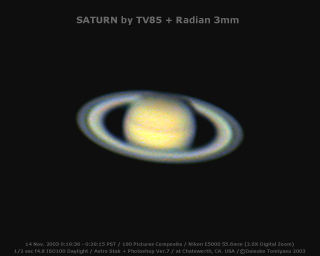 I am just traveling USA to visit friends. Carry the telescope around but condition or any other factors were not fit so easily to take astro images. However, finally got a good chance to have this one and Pleiades.
Appreciated to the Californian clear sky even it is not so dark enough by the lights on the city because no jet stream. This Saturn was so stable and super sharp on my naked eyes. Never got the great condition at Kobe, Japan.
But, at some reason (can not write down here), I could not get more great shots at Gila, New Mexico. Maybe next time.... (would you please browse the galaxy page, too)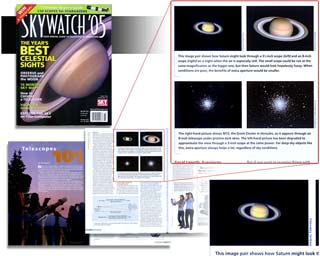 - The Sequel -
The picture above has published on Sky&Telescope magazine's SKYWATCH'05 P76. That description says diameter 85mm makes it "hopelessly fuzzy". Well, that's true. However, the price of a 200mm refractor, If you could buy one, would be enormous. And since, in my case, travel is important can you imagine trying to carry a 200mm refractor on to an airplane? The aperture is an important factor, as you can see here. But it is not always everything. It depends on what you can deal with and what you'd like to do, I think.
SPECIAL THANKS TO: Marv & Kay Spector, Kurt Reichl, Joe & Sherry Runyan, Dan Dominy, Lloyd & Melanie Vancil, Steve Kopito : They help me to one of my dream come true which carry the telescope to see the stars at some part of USA. Because I've seen so good night sky at USA before.
---
Mars 03/09/08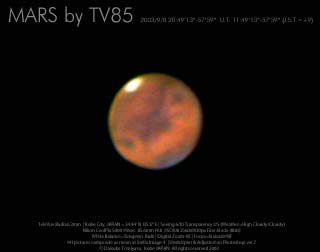 The controller for the another mount which use for Orion has been broken. So until exchange the controller (DD-1) as a inferior goods, I can use only TV85. However, can not stop to see because view is different day by day. Seeing was not too bad at this night then I could get enough shots to composite.
---
Mars 03/09/04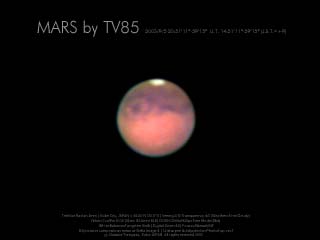 It was so bad seeing then this is the limit for the TV85. It is looks good at icon size but not good at larger size. TV85 is only 600mm and Orion is 1200mm so it is better to shot with Orion. However, if just looking by own eyes, TV85 shows so clear and contrastive view. It is really beautiful.
---
Mars 03/08/25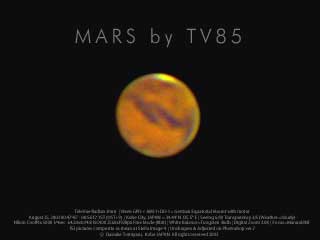 Mars by "The small bigger" TV85. It was cloudy then could get not enough shots to composite to the good quality. So this one is poor image than Orion. However, this shot mean you can get Mars picture by digital camera even by the small diameter refractor. When compare this one with below, you can see how it comes closer.
---
Mars 03/06/03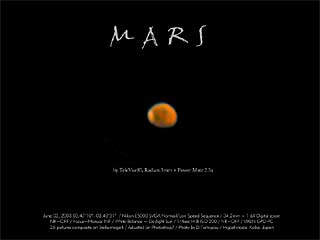 If compare with Orion, small diameter gives dark view then disadvantage slower shutter. However, it is not miserable.
---
Jupiter 03/03/20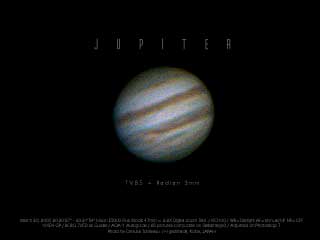 At the last season, I had very good seeing like possible to watch the surface but can not at this season, yet. Even this night again, it was almost hopeless for small diameter telescope. But little bit better than the last time.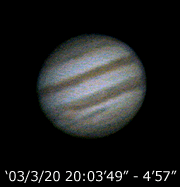 At this night, also I've shoot pictures of setting of the telescope in bright city night, materials for rotation animation (right) and with satellite by Radian 18mm (below). (time is in J.S.T = UT+9)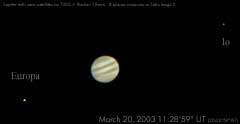 ---
Saturn 02/12/15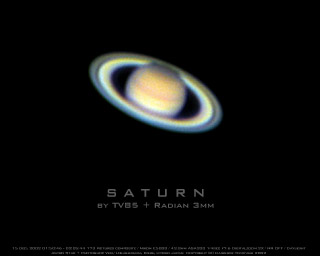 Like November 13th, it was good seeing by similar distribution of atmospheric pressure. At the same time, 14th's weather was cold at the day time then it was best seeing I've never had at my home. This is reason why I could get 180 good shots. Also I bought the "Moto Focus" which made by J.M.I.. This device amazingly makes focusing easier.
At the composite work, make all pictures as layer on Photoshop once and adjust the position. Then trimming the size better to composite. For composite, use Astro Stak or Stella Image3. I've done with Stella Image 3 as same as below right. However, it was not so good satisfactory. So I've return to the beginner mind and used Astro Stak. Astro Stak can not composite over 150 pictures at this size. I made 28 pictures that limit number of Astro Stak for each group of pictures with this size and then made up one result by 2nd composite which made up one picture total 173 pictures composite. Adjust on Photoshop is finish work.
If some software does the automatic position adjustment, I will strongly appreciated that. Because the place adjustment takes most long hours. I switch the target layer visible or invisible to search the exact position. Finally use the automatic positioning on Astro Stak then fine adjust by the hand. Tired to do this.
---
Jupiter 03/03/11

It's cold even in March. 11th was just before weather been to the winter style - West Low/East High for Kinki area, Japan. The weather condition was not good and cloudy comes again and again from North to South. But transparency was good. Actually, I've try to take Jupiter at night of 10th. When I was targeting GP mount moves strangely. So, I checked all cables. Soon find one of the jack of DD-1 connect to the motor was removing out. And finally it plucked out. I used tester to find the pin-a-sign to re-solder. But took too many time then could not back to sky again. Then, this night was revenge. So many clouds but I was lucky to get this one.

I figured out what I have to do by experience after made the last picture. Then use 2.4times digital zoom and been L-mode to get the sequence photograph about 60 shots or more. Maybe I can make animation of rotation if I will get good seeing.

Jupiter 03/02/24

As you well known, take the picture of the Jupiter is different story with Saturn's case. It must be less than 2 minutes because rotate quicker. Use the Nikon E5000 in Low speed sequence shooting to take pictures as many as possible. In this season Spring at Japan, we will have yellow sand from China. So very few chance to get good shoot under the good weather.

---

Jupiter 02/12/15

Shoot after the Saturn above, Jupiter comes up higher. As you known, Jupiter rotates so fast then must be shoot in less than 2 minutes. However, it is impossible to get the enough cuts like over 100 in 2 minutes. But have to composite to make it up as good quality picture. This is the dilemma of shooting Jupiter.

The picture's result dependant on how to up the quality of each pictures. The idea is get several of high quality picture (not so much like over 100) and then composite them. When the Jupiter comes up more early night, I will try again. This one is only mean "at Jupiter's picture, can not use the same way with Saturn".

Saturn 02/11/13

After not good result at 10th's picture below left, good seeing comes again by the similar distribution of atmospheric pressure. At this time, not only the focus but also I knew I have to have a lot of pictures enough to composite more than 100. So, finally I could get 150 better pictures to composite.

Actually, it was amazing who can do the composite like over 50 pictures. Who has the time to do that? However, I've done, now. Moreover, 150 pictures.... I'd like to write for the TV85's honor. If the digital camera gives real vision what I could see, it might be much beautiful picture. I think this result is not good enough yet with TV85.

---

Saturn 02/11/10

It was lucky good seeing night as bright South-East Kobe area. Carefully adjusted focus to the cassini. 3mm Radian with digital zoom gives so rough resolution. So merged 101 pictures to get smooth detail. Used unsharp filter gently. Little bit thick cassini but anyway this is a first success with Nikon E5000. BTW, I could not wait to Astro Stak 2's release. So this picture has been merged by Stella Image 3. But could not use the auto alignment because bad memory management or too slow on that software. Then I made 101 pictures' alignment on PhotoShop.

Saturn 02/11/05

Wait until midnight to rise the Saturn higher. Clearly saw the cassini as thin line but could not get it yet, again. Carefully selected good pictures to composite.

After this night, I decided to buy the Stella Image 3 software to composite more than 30 pictures with large pixel size. I was waiting for Astro Stak 2 but not released color accept version yet. So I could not wait that.
---
Saturn 02/10/27

Coincidentally hit the good seeing. I could see the cassini's space between rings as eye view. Carefully composite with finely fitting pictures. But not the best, yet.

Saturn 02/10/25

The weather report says it will be rain. However, could see the stars in between the clouds, very clear. So decided to try to shoot. At this time, I was not used Power Mate and used optical center for better quality. Size of object got by digital zoom and picture quality made by composite at Astro Stak.

---
Jupiter 02/03/09

Is that seeing good or bad? Because not so bad jet stream effect but sky is not clear by warm weather or yellow sand comes from China. Finally, I've got the picture right. One of the report on the magazine suggests composite the pictures which took with in less than 2 minutes because Jupiter rotates on axis very fast. This picture made with pictures in 4 minutes. Not so bad.
---
Saturn 02/02/12

The seeing was better but it was so cold. Try to the planets with Nikon E5000's Clear Image Mode. This function gives 2 pictures automatic composite when taking picture. Then composite them again on Astro Stak. Adjusted the color much like CCD pictures.

Jupiter 02/02/12

The Jupiter as same as above. Little bit more detail on the surface than the pictures below. When taking new shot, feel hard because want to be take over the last result. One of the digital camera review report says "useless" to the Clear Image Mode at E5000. However, at taking the kind of pictures like this, Clear Image Mode is useful.
---

Jupiter 01/12/27

Jupiter (same as left/single shot)
The seeing was not so good like 22nd (below). However I'm took this to show the Nikon Coolpix 5000's new specification "Clear Image Mode". This single shot mode is usable and when you merge them as source, result will be more fine like picture above left.
---

Jupiter 01/12/22

Saturn 01/12/16
These are my first light of Tele Vue 85. Took the picture of Saturn with Nikon CoolPix 5000. I can show more large picture when new version of Astro Stak ready to use.