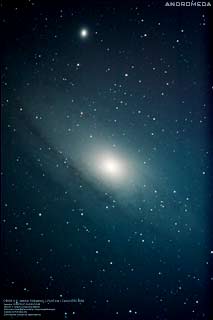 ANDROMEDA September 19, '07

Am I looks like quit the star watching? Actually not. I am reading the condition. Light pollution is good excuse to shirk but I am not shirker. However, I need best of the best condition to get good result of the pictures. If I move to somewhere better and escape from light pollution, also I can get good pics. But I have so busy days to do that.

This target "Andromeda" is tough one. I could see Andromeda like dark cloud by binocular then started to take this by 300mm. Because better to try than do nothing. Find the guide star is difficulty too but I could find it smoothly at that night.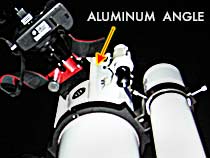 By the way, both 300mm and 152mm made change for the focuser mounting. I put in the L shape angle aluminum between focuser and telescope body. It make bend fewer against DSLR weight on the focuser then make sharp focus from edge to edge.
Picture of Andromeda after composite looks great even this poor one. I feel wide and wild space. However, M32 (small one on top) supposed "in" the M31, not outside like this. Light pollution effects so badly even use the LPS-P1 filter. I am wondering the full Andromeda picture, now.
---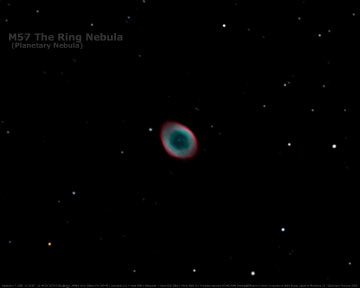 M57 by EOS20Da September 7, '05
The night after typhoon Nabi left, sky was so clear - seeing for planet was not good by streams but even so. I bring telescope out again and settled for M57 ring again. This time, I made long exposure more than last time and success to autogude. Light polution are still effective strongly but clear air halps make picture fine. Also enough exposure gave RAW mode better. So I could use Silkypix to develop then merged on Stella Image.
---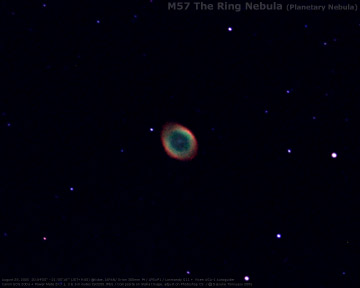 M57 by EOS20Da Augusut 28, '05
After a year since got the last ring nebula, this time I use Losmandy G11 and EOS 20Da with 2X Power Mate. Looks like H-alpha sensitivity between 20D and 20Da made difference at color.
Sad thing is the light polution. The bridge that south side of our home lighted up at summer holliday season. So, condition is miserable.
Adjusted color tone picture like NASA's web site. However, not good like any cooling CCD's results.
---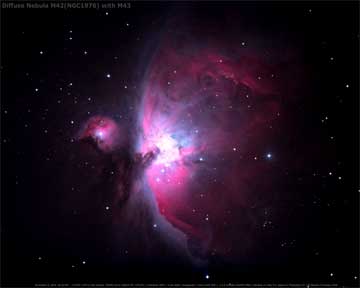 M42&43 by EOS20D November 8, '04
I used the Canon EOS 20D here because it offers a better noise reduction system than the EOS10D.But this shot also shows that there is a wider capacity for details from dark to bright and more fine color for invisible frequency zone. Thank you very much Canon!
Needless to say here, the AGA-1 auto-guider is working well here with the Losmandy GM8. The auto guiding without PC is very comfortable. An LPS-P1 filter works fine to reduce the light pollution and the EOS 20D reduces noise. The only drawback is that it takes time to shut out noises because 20D duplicates the time length exposures again automatically.
---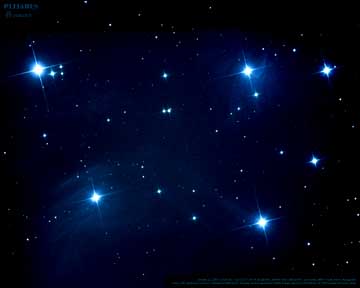 M45 PREIADES (SUBARU) October 12, '04
Vixen AGA-1 with Losmandy worked very well. A 7 minutes exposure picture gave me more fine details than the one below.
---

M45 PREIADES (SUBARU) October 07, '04
Did you know the Japanese car maker SUBARU? This is their symbol. SUBARU in Japanese means PLEIADES. It would be a clear blue without light polution and the presence of the moon. I'd like to try to this target somewhere else. PLEIADES are so beautiful. It's easy to imagine the jewel box?
---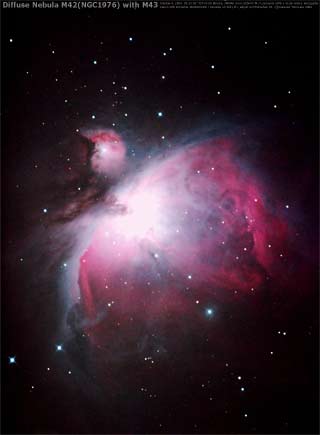 M42/43 - October 04, '04
I made modifications of Losmandy GM8, and then I waited and waited for the field test. Finally that night comes. Result? Take a look on the right. It worked!! Six minutes auto guided without problem by AGA-1 Autoguider and P.E.C. works to drive via Losmandy Worm upgrade gear. Also, the telescope tube was mounted to the GM8 with the telescope ring made by Parallax Instruments (standard ring). In this way, it is more stable and works smoothly. I was sleepy because I couldn't sleep 3 hours after I took this. But that sleepy feeling disappeared after I developed RAW data of this. Maybe the results were so good because it was 3:30 a.m. Also, it's a little bit darker since I've used the LPS-P1 filter but still the bright half moon was on the top of the sky. On the other hand, Orion 300mm + BORG76ED (changed helicoid part to the mini borg tube to reduce the weight) + Parallax Instruments's ring are little bit over weight when put on the Canon 10D. Maybe I have to upgrade the GM-8 to GM-11. When? I can say not soon. I pray to God "Please do not break the GM-8 until I'm ready to buy the GM-11".
Looking at this picture again, I felt "if we could see the night sky with full color like this with the naked eye, would human beings be more awe-inspired by God and Mother Nature?". Though, if the night sky existed as full color, maybe it's too lively and the Japanese would not feel Wabi-Sabi (you can find what Wabi-Sabi mean at Google) looking on it.
---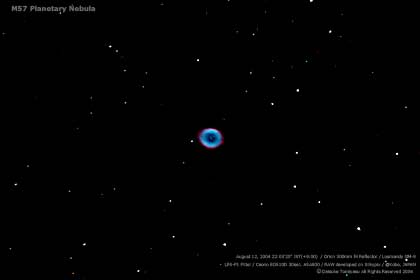 M57 - August 12, '04
Last year I got M57 by Coolpix. This year, it was by Canon 10D. Visibility was not as good as the 11th. However, I tried to use P.E.C. at this time. Even then, just one image was as good. This one is only 30seconds exposure. I have to do several things to get more perfect image, I know. Maybe the first thing to do is change the telescope holding ring to make it more stable with the mount.
---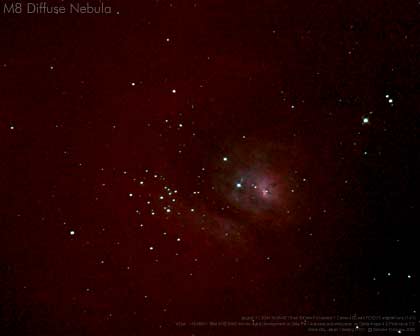 M8 - August 11, '04
It is possible to get the deep sky image like this even when conditions are not the best. The digital camera is great. However if I can use more long exposure with better sky conditions, maybe more color tone will show up.

LPS-P1 filter is a must. But that's not the only requirement for this image. I used Silky Pix RAW developer software which was just released as a commercial version. The single image comes up like a composite image.
---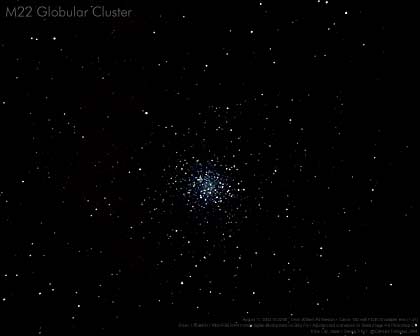 M22 - August 11, '04
The weather this summer is just terrible.. I'm looking for the chance to take pictures but could not. Even when I use Losmandy GM-8, the small movements show up in enlargement. However, until the good weather comes, I'll keep trying anyway. Tonight, M57 was a mistake, but did get some of the deep sky a little bit better. Even under good conditions and using a LPS-P1 filter, Kobe's night sky is so bright that it is difficult to see many stars.
---

Feb 07, 2004

The Canon 10D is a well known digital SLR camera that is as good as any to shoot deep sky pictures. However, it still isn't that easy to get a good photo to show up here. Finally, I got enough shots to composite without a guide miss. A shopping center has opened about 1.5km South of my home and that building uses a spot light for their roof top sign board. That light makes a big light pollution problem for me. So, I use an LPS-P1 filter, but it still limits me. The German mount is a Losmandy GM8. It is a good mount because it not only has a free stop clutch but also it's so easy to tune the polar axis. It's completely different with a Vixen mount. Being patient for 8 minutes for the set up of the PEC is not so easy with cold weather but the result is treasure like this. Also, I used Paracorr. If we have a reducer for an Orion reflector, we can get a more dynamic and wider view of this beauty in the winter sky.
---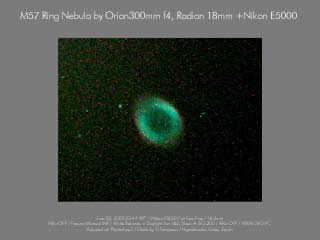 June 02, 2003
I just hate the light pollution at the East edge of the City of Kobe. It's especially hard to see the deep sky.
My one small hope is the light concentrating power of 300mm's diameter.
This shot is the best I could do in a bad place. You can see the result of the LPS-P1 with a Digital Camera.