---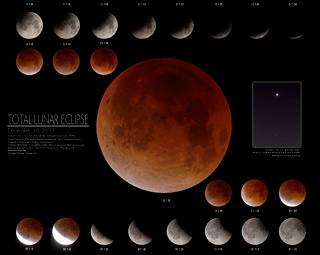 December 10, 2011
I was missing 300mm so long. Because heavy and hard to use in backyard. Why because light pollution and wind. However, for darkness full eclipse, I know I need faster telescope then bring it out.
The brightest time just started are ISO200 1/320sec. But it down to ISO1600 1/4sec at peak of eclipse.
It was hard to waiting the interval 10 minutes were little bit boring then I took my Pentax K-r out and settled it with O-GPS1. Astro Chaser mode works fine to get eclipse moon with Orion that all time side by side with.
Please enjoy fine details at Zoomify version or HTML5 version for Smart Phones .
---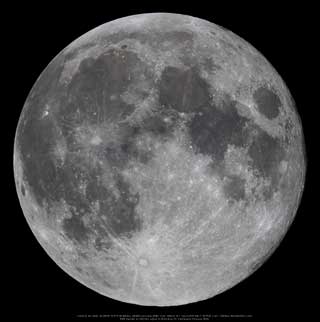 October 28, 2004
I took the "Fly me to the moon" shot and this one with a larger aperture sized telescope. A 300mm lens gives fine detail, however,it's so bright it's hard to see without sunglasses.
---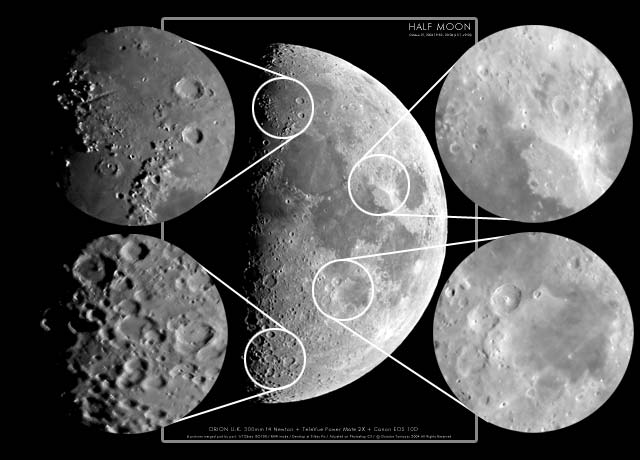 October 21, 2004
I used a TeleVue Power Mate 2X to take this full moon shot.The quality was not as high because the resolution was so low, especially, as you can see, on the southern edge. Yet, it's fun to use your software and zoom in and out. I included a map version with locations identified. Enjoy!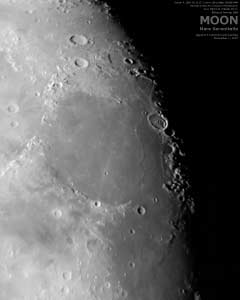 October 04, 2004
The picture on the left is a projection with a PlöSSL 25 mm. It was dissapointing not being able to see equally from edge to edge. However, you can see the detail of the Mare Serenitatits, the Appollo 17 landing site.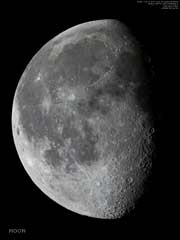 ---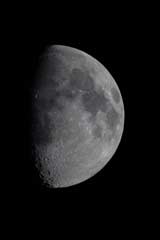 April 29, 2004

It's impossible to get a really perfect shot with so strong a jet stream. However, a Canon 10D and reflector gives a very good result.


For this shot, I've used an FD-EOS adapter which I used to attach the FD300mm f2.8L to the EOS cameras. (Why? Because the expensive lens is so difficult to switch) It works the same as a 1.4X extender which just fits for the half moon , for example, like the one on the left.


For digital development, I also used Silky Pix, the same as below.
---
April 14, 2004 Found a very good RAW file development tool called "Silkypix". I then made changes for the pictures below.

The RAW development software SILKYPIX beta version under development has been released to gather feedback from users. So, I downloaded that dog food to try. Honestly I'm really impressed. Why I have to composite many photos at below? Because surface is not shown smooth enough. When develop one of these source picture, result is very much better than the result of composite. Let you compare all of them.
---

March 6, 2004 11:47 p.m. (JST) Photo taken at age 14.7. The next day was the full moon. However, as usual, everything is dependant on the weather. It was bad weather on this night, so my best chance was to take the Moon as almost a circle with the focus on all edges. Everybody knows the full moon is so bright. But, with the Orion 300mm f4 plus Canon 10D in direct focus, the shutter speed was 1/2000 even with ASA100.I made 20 shots for a composite at 16bit RAW mode. Hopefully, the surface detail is smooth. The Moon in the age shown below suggests solidity but I really prefer the full moon to feel the powerful image of the Moon. Difference between the bottom picture is, 12bit instead of 16bit RAW, CCD instead of CMOS, Nikon instead of Canon and direct focus instead of enlarged focus. Stella Image and Photoshop have been acceptable for a 16bit RAW image created by 10D and we can easily use them today.
---

March 2, 2004 11:14 p.m. (JST) At Age10.7, The Craters have solidity. Maybe direct focus (without an eyepiece) is the best way to take the Moon. The Canon 10D works great. Orion 300mm f4 has a 1200mm focal length and this is a little bit shorter than full screen for a 10D. However, I have not used any lenses like Paracorr because of the possible color aberrations which could show up. In RAW mode, ASA100, 13 shots composite gave me the smooth surface of the Moon. Canon 10D ASA100 Daylight 1/500sec
---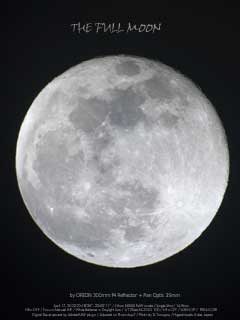 April 17, 2003
I experienced the natural result of a "sharp focus all around." This is not easy thing with a Newtonian. Finally I've got an exact collimated condition demonstrated by this picture.
The difference of the value of information is quite obvious. With a Nikon E5000 it's possible to get 12bit RAW with a firmware update. The latest of Photoshop's RAW plug-ins makes it much easier to handle.
I made wallpaper with this picture with a song "Fly me to the moon" and sent it to one of my friends. He gave me a reply and said "I feel I'm going to howl like a wolf". Then I imagined a cartoon. Person opening his notebook PC. Then he changes to the wolf. Quickly he closes the PC and turns back to a man. Open-wolf, close-man, open ....funny, uh?