- GALAXY by Orion Optics 152mm f5 -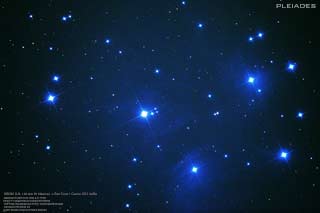 PLEIADES - September 19, 2007
Pleiades was a big target to me. Because 300mm f4 is too long focus then can not get everything. Needed short focus telescope to make Pleiades fits to the frame. But, the other hand, small diameter is not good enough to against light pollution.
So, I waited the night like that night 2 years. Midnight is darker because people sleeps. Weather, seeing is good without moonlight. It was very difficult condition to have.
So, like that perfect night, I was taking picture of Andromeda and find Pleiades rising up. Then after Andromeda, I switch the telescope to 152mm. LPS-P1 filter is big help to take it possible too. Result is not perfect but maybe better one as took at in the city under the light pollution.

---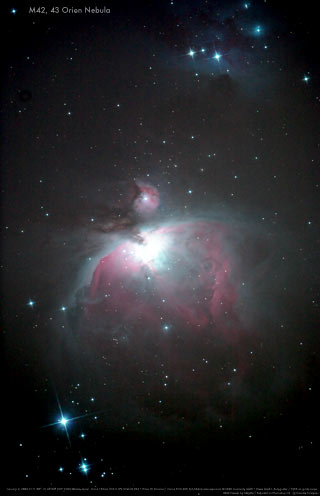 Great Orion Nebula - January 9, 2005
If it were possible to see the colors in the night sky with our naked eyes, we as human beings would possibly stand in awe of Mother Nature or God a little bit more.
Boring to see the Orion Nebula - sound like "Again!?". However, this is almost only one that possible to get beautiful picture under the light polution environment. Orion 300mm is 1200mm focul length then too long to framing like this. 152mm gave me the wider view.
Of couse I use LPS-P1 light polution filter. Canon EOS20D is very good camera to get the picture like this without any change. If you removed inner filter out, infrared band comes more rich. But at the same time, lost any other usage. (Canon announce the EOS 20Da as a order made - takes 3 months to delivered)
Also one of the good thing to using digital camera is "do not need PC". After use the computer all day long, who want to use computer at relax hobby time again?

---
Copyright©Daisuke Tomiyasu 2001-2007