Eclipse and weather
It was very nice to see the solar eclipse. I had some good news and bad news.. The bad news was that my EOS 10D had dust on the low pass filter in front of the CMOS and scratched it when I was trying to clean it out. It happened a few days before the eclipse. Therefore, the 10D was left to be repaired.
I was in a jam, and had no other choice but to spend some money and buy an EOS 20D. The good news was that the EOS 20D has a B&W mode and works exceedingly well for H alpha, a good result I would not expect.
More good news. I bought a Canon extender EF2 X II. This is very nice to extend my telephoto lenses. Bad news, it does not works with the telescope because there is no signal from the lens. Why doesn't the T ring have a signal canceller!!?
Even better news was that the eclipse occurred with good weather and I could take some nice pictures. Bad news, the night sky has clear but a strong wind was blowing. I put up the partition panels, but still the wind blew down my table and all my small accessories and parts.
Gee. I really need a good observatory where the night sky is not polluted by city lights??
(October 17, 2005 - October 23, 2006)

Can't win against weather
In Japan we say the night scene is "Yakei", but here in Kobe we have an abundance of city light, or as we say in Japanese "Yokei". I have this feeling for a real dark night, a natural Yakei(夜景). But the only time the electricity was off was during the Great Kobe Earthquake, and I don't want that to happen again!
Under the bright sky of Kobe, I wonder if a larger aperture size helps the poor viewing conditions? I can not say for sure, because the bad visibility limits the benefits of a larger aperture.Throughout the end of summer in Japan, bad weather continued day by day ... no targets to see. Moreover, with the light pollution, it is hopeless to see the deep sky . Milky way? No way.
So, to kill time I started experimenting with my telescope. One of the thing I've done is make a AGA-1 work with a Losmandy mount. Picture on the left shows testing and how it works after I made it. The system worked but I could not get any good pictures because of the bad weather. A serious astronomer could possibly have some very fine suggestions, like "the guide scope is not rigid enough". However, to me, their environment is better. Before I can say that I need better weather. For the moment, I can not even find a suitable guide star, making it impossible to guide by the off-axis. Of course, I'd like to get more fine picture. To get them, I need a better observatory, maybe one with a dome to keep the telescope stable against the wind. But, when I really think about it, I know that like Kobe City is not a suitable place to have the observatory. I have to move to somewhere with a dark sky. . So, light weight, and a system easy to assemble are very important factors to me. I know this 300mm is not good to carry around. Well, I have made some changes, and now it takes time to show.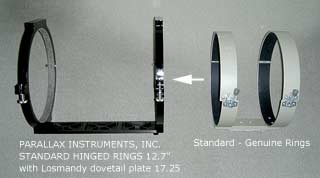 (9/24) It's arrived!! The rings and dovetail plate are in hand. Parallax Instruments's Standard Hinged Rings 12.7" completely fit with my Orion 300mm. 17.25" dovetail plate looks much better to hold on the mount without shaking. Appreciated, Mr.Joe Nastasi and Mr.Chris Arnold. I also changed the worm gear but can not see the results because the weather is still bad.
(September 18 or 24, 2004 - October 17 , 2005)


Telescopes in Bright night view of Kobe
Kobe is the famous city for the night scene. Since I started this hobby of photography, I knew that Yakei (say night in Japanese) was Yokei (mean "too much" in Japanese) in Kobe.
Now, I really feel that the night sky is like day.With the settled TV85, BORG 76ED on GP mount with AGA-1+LCD monitor and E5000 digital camera, the two LCD monitors are very bright, too. When they're put on the telescope on this short leg tripod, it is very hard to look in because it's too low.
2003/3/20 20:30