A

fter a year and half after SILKY PIX released. Several of new digital SLR has been released and changed RAW data format type. SilkyPix had miner version up too. But finally they will release Ver.2. Now we can test Ver.2 Beta for Mac as free. Ver.2 for Windows has been released but, I'm already switched to the Mac. So I'm trying to use this beta software.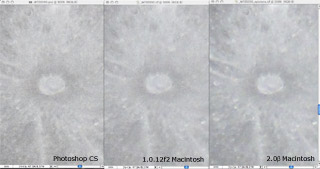 The digital camera which made test picture RAW data is EOS 1Ds Mk2. Same as current version, might be picture of the moon is the better to judge. So I took autumn full moon (kind of tradition available in Japan).
First one is the highlight part. You can see how few noises without missing the sharpness at picture right.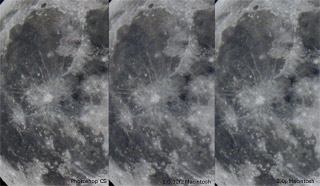 Another one test picture is dark ocean. At this picture, also you can see not missing the sharpness when adjust the flat gray part without noise. Even Photoshop CS shows some shadow that not actually exist.

RAW is the very important file format at professional people who uses professional camera such like EOS1DsMk2. Because we have no idea how that picture will be used in the future. So, put jpeg to have time to develop then we can prepare to the high quality needs in the future.
At this test, the data by EOS1DsMk2 to see how Silky Pix has been developed to get the edge of the future. And Silky Pix completely ready to prepare with that. The soft programmers might be work so hard. At small things, Silky Pix also changed to very comfortable to use like included file browser. So I do not want to miss the update.
SILKYPIX Web Site